Rack Protection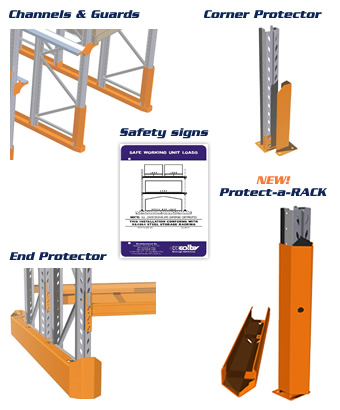 Even the best forklift drivers have accidental collisions with
racking. While worst case scenarios involving a rack collapse are rare, impact damage weakens the racking structure, compromising its load carrying capacity and potentially putting both property and life at risk.
Protect your business and your people with Colby Protect-a-RACK
Designed to be fitted to just about every type of rack upright, the Colby Protect-a-RACK outperforms traditional steel and plastic rack protection systems through its unique, innovative design and ease of installation.
Why Protect-a-RACK?
• Manufactured from heavy duty steel
• Versatile design fits any type of racking
• Simple, fast and cost effective installation
• Streamlined design maximises clear bay entry
• Certified and patented design
Standard
Suitable for normal selective pallet racking with the first beam level above 1050mm
800mm high
Low Beam
Suitable for double deep racking and longspan shelving with first beam at 300mm or 375mm
Comes in two pieces which fit together snugly:
– the base plate
– upright protector
Carton Live Storage
A specially notched version suitable for carton live storage racking with typical shelf levels
Suitable for front and rear uprights.
Base
Two types of Protect-a-RACK Base are available:
Integrated unit combining a baseplate for the rack upright and a low-rise protector
Low-rise retrofit unit to suit existing installations